Innovation Keeps Digital Centre on its Toes
Company Keep Working to Change the Photo Booth Game
As Digital Centre celebrates its 22nd anniversary, company founder and CEO Josep Tarres and his team can certainly look to a history of innovation they can be proud of. It's one that shows no signs of slowing down either. In fact, they released seven new products in the last two years and are hinting of new things to be at their IAAPA Attractions Expo booth next month.
Such hints are unlikely to disappoint if history repeats itself. At last year's fall show, DC debuted Grand Palace, a combination photo booth and redemption game sporting a massive, eye-catching LED Video Wall. Instead of simply taking a photo, friends can gather for the shot and then use their image to play through a few fun games to win tickets and photo strips.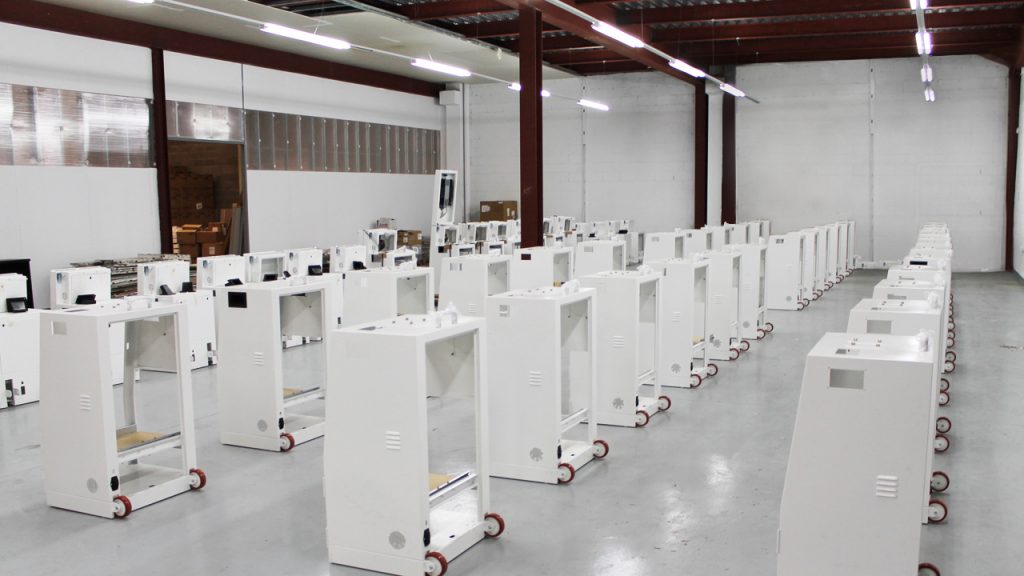 While Grand Palace is just one of the many new concepts being pioneered by the Spanish company, it quickly illustrates their desire to revolutionize the way their customers view photo booths. Both operators and photo takers alike get a brand-new way to experience the age-old attraction, with the former gaining new potential, marketable locations and the latter getting a novel way to take a picture with friends.
"We're always preparing new product. It's what keeps us on our toes," said Tarres. "We love innovation and that's what our development team lives for: new concepts, new products and new software. You never know where an idea is coming from. Sometimes it just pops up from having a conversation or watching the way technology develops. Sometimes it comes when we're traveling, and not just because that involves seeing new product, but because it's a way for us to get away from our routine, and that helps the team brainstorm."
"We never know what product will be successful or what tech will stay in the market, but we want to give everything a try and be the first ones innovating," Tarres continued, adding that one of their biggest hurdles is actually the long list of ideas they want to develop.
"That list keeps growing too!" he said. "Once a year, the team meets and some of the old ideas get axed, while others get the green light. It's not necessarily a 'problem,' but we had to come up with the infrastructure to turn these ideas into reality and get them to market."
New Digs
Innovation goes beyond the product line at Digital Centre. To keep new ideas and new machines moving along speedily to market, the factory recently upgraded its European headquarters with a move to a larger, new site in Barcelona. With more than 10,000 sq. ft., it offers modern offices to inspire creativity and innovation, as well as new factory equipment for production. Execs say their new home allows for more efficient manufacturing volumes with up to 500 photo booths being built per month and up to three models of DC machines in production simultaneously. In brief, their creativity isn't hamstrung by logistics.
While the factory floor is humming along, the new HQ also provides a comfortable, productive home for DC's graphic design, development, IT, administration and marketing teams. Shipping has been enhanced at the new facility, too. Finished product is surrounded by a fenced area with parking for 40 cars, truck paths to the warehouses and a huge covered loading area that allows them to load five, 40-ft. containers at the same time. On top of that, potential buyers can see and test the product in a 1,000-sq.-ft. showroom. Tarres thinks this will help keep his teams on track to meet the ambitious goals innovation requires.
The new digs are a major upgrade for a company that started in a small warehouse 22 years ago with the idea of providing quality, low-cost photo booths for the European market. Today, the company has offices on two continents and strong global sales, and boasts of innovations that have altered the way photo booths are made, perceived and used throughout the world.
Tarres is far from the first to take credit for the company's success. He heaps accolades on his entire team and especially on folks like President Josep Maria, Dustin Espindula (who leads U.S./Canada sales), Francesc Martos (EMEA sales manager), Marina Aguera, Montse Canales, Elisabet Jimenez, Victor Carretero, Albert Sugranes and Romulo Melendez (a familiar face at U.S. tradeshows who is the U.S./Canada support manager).
"Most of the time, our ideas are a team effort," Tarres said.
Outside of a new HQ, the team at Digital Centre is gearing up for the fall sales season with IAAPA's Europe and U.S. shows on the horizon. Tarres hinted at two new products coming to the IAAPA Expo this November in Orlando, and says both include new applications of their signature LED Video Wall technology.
For those unfamiliar, DC's LED Video Walls are unmissable, illuminating Digital Centre booths like a lighthouse in the fog. The Video Walls utilize LED technology that the company has been testing for years to transform the outside of the photo booth into a billboard, as well as a massive screen for users to show and check out their recently taken photos.
"That was the biggest change we've seen as a company since the beginning," Tarres said. "It was huge, not just changing from buttons to a touchscreen, or integrating higher quality cameras and different screens, but a totally different concept: placing the screen on the outside and making it all a part of the experience."
Without a doubt, the Video Wall is a fascinating and eye-catching tool for advertising, generating extra income for operators, says Tarres. This process was so new and spectacular, he said, that they were surprised to see people taking photos of the outside of the booths with their cellphones.
The two new pieces coming to IAAPA this fall are also expected to continue the concept of adding a redemption aspect to photo booths. Tarres says one of the machines is set to introduce a brand-new concept to the industry, and seeing how last year's reveals did just that, he might be right.
The new games are said to include a type of redemption, but not what you would normally expect from a ticket or prize game, all wrapped up in the traditional photo booth model.
To Tarres and his team, this is the objective: combine what they know works thanks to years of experience and happy customers with new concepts that are risky enough to blow the socks off of some consumers. Redemption, with its regrowth in popularity in the last few decades and the burst of activity in the FEC sector, is in DC's sights.
"We are still working very hard on the redemption aspect. Grand Palace was our first experience with redemption, and while the product is good and selling well, we want to expand that idea. We want to make the game attractive enough, but speed up the time it takes to play the game and reduce the cost. At IAAPA, we had it set to take $3 to $4 per play, which would last a couple of minutes. We're working on making it $1 with a 30-second game."
One thing's clear, Tarres and his company are going to continue to push the boundaries of what a photo booth can do with machine technology to enhance customer enjoyment and to help operators expand into new, unique locations.
"We are blessed to have spent the last two decades improving technology that has allowed our team to develop a lot of innovations. We're equally as excited for the next two decades as well!" Tarres concluded.
Visit the factory online at www.digital-centre.com.